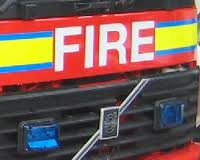 A 31 year old woman was led to safety by fire crews after a small fire in the first floor bedroom of the Norah Baine House, Whiteabbey Hospital on Monday evening. 
The casualty suffered mild smoke inhalation.
An activated smoke alarm alerted residents to the danger of fire.
The cause of the fire appeared to be accidental.